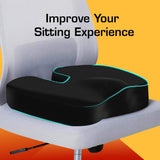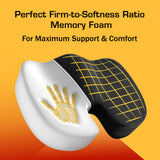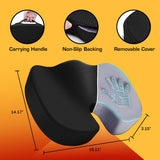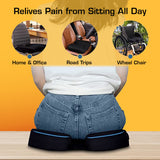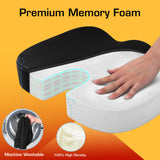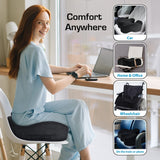 Billebon
Billebon Memory Foam Coccyx Seat Cushion For Lower Back Pain Relief Hip Support Pillow For All Types Of Chair
Enhance Your Seating Experience: Billebon chair seat cushion ensures optimal comfort for your ordinary chair. Its will provide support to your tailbone as well as back. It is suitable if you sit on chairs for longer time in office, home, car or while travelling.
Optimal Seat Cushion for Tailbone Pain: Ergonomic design with a U-shaped cutout suspends your tailbone and prevents it from being compressed. Its carefully contoured shape not only enhances your sitting posture but also significantly alleviates any discomfort or pain you may experience.
Perfect Fit for All Types of Sits: Experience ultimate comfort with this versatile coccyx cushion, designed to provide relief from tailbone pain. Whether you're sitting in an office chair, at home, in a car, on a wheelchair, during a flight, or while traveling for extended periods, this cushion is the perfect fit for all. It caters to men, women, and children alike, ensuring everyone can benefit from its exceptional support and soothing effects.
High-Quality Seat Cushion for Chairs: This chair cushion provides relief from back pain while sitting, and its long-lasting durability sets it apart. Made from premium memory foam, the coccyx cushion slowly rebounds and regains its original shape after each use. The cushion provides all-day comfort, and the foam doesn't get flatten even after spending long hours sitting on it.
Portable and Lightweight: This seat cushion for back pain is convenient to carry and store. It effortlessly fits onto any chair or vehicle seat, ensuring ease of use. It is easy to clean as well.
Premium and Long Lasting Cover: Our chair seat cushion has a breathable mesh cover that allows air to flow through and prevent the build-up of excess heat. Experience all-day comfort as it keeps you cool and allows you to sit comfortably throughout the day.