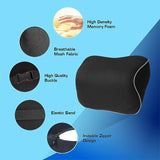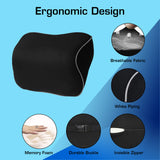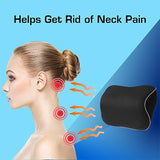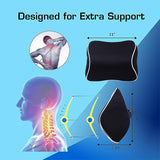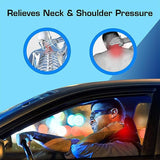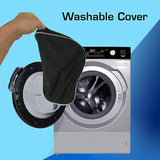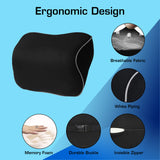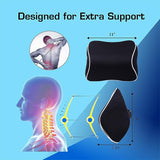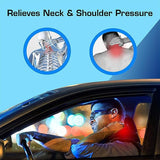 Billebon
Billebon Premium Memory Foam Car Pillow for Travelling, Neck Rest Head Support Pillow
Car Seat Pillow

: Our professional car headrest pillow is designed to provide support to the cervical vertebrae and restore the natural curve. With its adjustable and removable feature, this stretchable pillow fits all car seats, ensuring a comfortable and supportive experience on your journeys

High-Quality Memory Foam

: Our car seat headrest neck cushion pillow is crafted from high-density memory foam, ensuring exceptional comfort and a plush feel. It effortlessly regains its shape even when folded into various positions.

Ergonomically Designed

: Our car headrest pillow is meticulously crafted to follow the natural curve of the neck, ensuring optimal protection and a comfortable, skin-friendly experience. It can be easily attached to a car seat or office chair, with the installation height adjusted according to your seat height. The support position can be customized based on individual height, promoting proper posture and reducing strain.

Neck and Head Support

: Our car seat neckrest cushion, crafted with memory foam, fills the gap between your seat headrest and backrest. It provides exceptional support for your head and neck, helping you maintain a proper driving posture and offering comfort during long work hours in office chairs. Experience a comfortable driving experience while ensuring proper support for your back by adjusting the backrest angle. Enjoy the benefits of optimal neck and head support wherever you go.