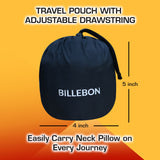 Billebon
Billebon Travel Pouch for Travel Accessories
Experience the luxury of smart travel with our Travel Pouch 
Billebon travel pouch not only adds a touch of sophistication to your journeys but also simplifies your travel organization.
Designed with meticulous care, this sleek travel bag is convenient to carry a neck pillow on every journey & this pouch comes with adjustable drawstrings.

Simply fold the pillow when not in use and store it with ease in the carry bag.